This morning my friend Pat called me because she happened upon a really great yard sale. Of all things, a yard sale on Wednesday! I hadn't really gotten dressed yet, hadn't combed my hair and was just sippin' on my coffee.
Pat started listing items that she saw...
(coffee cup down headed for the closet)
She said, "thought you might like the iron beds."
"Oh, I see a table, and there's a cute chair. It looks like little old granny stuff."
I said, "Tell me about the beds." I could hear her going down some stairs,
"Well, here's a cute little pink painted one with brass knobs on top... I don't know if you'd be interested in this or not... little spindles, old box springs...
(whilst trying to put my bra on and listen, the phone slipped out of my hands hit the ground and busted into 3 parts)
(bra, flip-flops, out the door in 5 min.)
Once in the jeep, phone back together, I phoned her for the directions.
We met, she helped me shop and I purchased only the best shabby things- the pink bed, a french chair and a cabinet.
Might as well go to St Vincents since we're in the vicinity! Sure thing. As soon as I walked in there they were
two white chenille fringed bedspreads! Not too shabby.
Pat had scheduled lunch with a mutual friend so we bid farewell.
Not looking my best (I had stuck my hair up in a clippy) I put the sunglasses back on and decided to make a quick trip to the D.I. There really wasn't much to see in the isles so I headed to the very back where they keep doors, bed frames, kinda rusty crusty stuff.
Do I see mirrors? French country mirrors?
They were stuck behind some heavy doors and it took me a minute, but I set them free.
They are dresser mirrors and made of heavy plastic. I wish they were solid wood, but they will do just fine for now. I'd like to keep them white and totally distressed. Maybe add some gray and get rid of the gold antiquing.
I'd say it was a "not too shabby" day of shopping.
Thank you new followers. You really make my day and I love your comments.
This post is linked to the following parties at: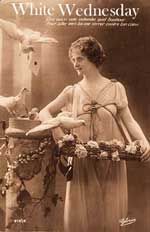 Click buttons on my sidebar